Be Enthroned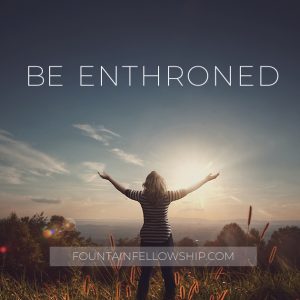 Yet thou art holy, O Thou who art enthroned upon the praises of Israel.     Psalm 22:3 (NASB)
What an amazing view! We can offer God a throne of praise to take as His own and reign as King over His people.
We don't make Him a King by praising Him, He's the King of kings, but we can enthrone Him as King of our hearts and lives.
Jesus said: "When two or three are gathered together in My name, there am I in the midst." His presence in our midst also gives us the privilege to offer Him the throne of our lives. We can offer our thrones to the King of kings and the Lord of lords to preside over our lives. As King of kings, He deserves all the thrones and nothing less. When we praise Him when we exalt Him when we sing praises and glorify His name and extol His majesty, then we are acknowledging His Kingship and we are responding in a way that is appropriate. We are offering Him a throne to sit upon – the throne of our praises.
Don't invite Him as a guest, offer Him the throne. Tell Him no other will ever inhabit it again. Make it His forever!
Thinking about supporting our ministry?
If you'd like support or make a donation to The Fountain Fellowship, we simply ask that you include your support with prayer. You can also follow our journey on our  Facebook Page The Fountain Fellowship or subscribe to my Youtube channel at Pastor Carmelo Grajales
[wdgk_donation]
Our Sermon Series section is a free resource. Complete with sermon transcripts and downloadable study guides for private use, Bible studies or small group settings. SERMON SERIES
If this ministry has helped you in any way, Pastor Carmelo would love to hear about it. Leave a Note